The politics of fertility in twentieth-century Berlin / Annette F. Timm.
Publication | Library Call Number: HB1006.B5 T56 2010
"What impact does a falling birth rate have on the strength and vitality of a nation? Are citizens duty-bound to think about this question when they make reproductive and sexual choices? Few countries have grappled with these questions so intensely and with such dramatic consequences as Germany. The Politics of Fertility in Twentieth- Century Berlin tracks how fears of a declining population infl uenced reproductive and sexual health policy in four German regimes, from the end of World War I through the period of German division in the Cold War. A case study set in Berlin, the book examines local measures to control fertility-threatening venereal diseases and infl uence reproductive choices in marriage counseling clinics. It investigates how policies meant to encourage higher birth rates created feelings of belonging even as they infringed upon personal autonomy. The idea that sexual duty should be central to conceptions of citizenship only died with the changing technological and political circumstances of the late Cold War"-- Provided by publisher.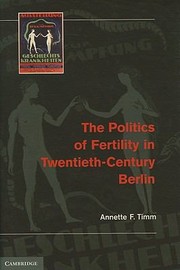 Format

Book

Author/Creator

Timm, Annette F.

Published

New York : Cambridge University Press, 2010
1008

Locale

Germany
Berlin

Language
Record last modified: 2010-10-21 13:51:00
This page: https://collections.ushmm.org/search/catalog/bib213254