A thousand darknesses : lies and truth in Holocaust fiction / Ruth Franklin.
Publication | Library Call Number: PN56.3.J4 F73 2011
What is the difference between writing a novel about the Holocaust and fabricating a memoir? Are Holocaust writings, by their very nature, exempt from criticism and interpretation? Do narratives about the Holocaust have a special obligation to be truthful--that is, faithful to the facts of history? Is a fictional account of the Holocaust, in the words of Elie Wiesel, "an insult to the dead"? In this provocative study, Ruth Franklin investigates these questions as they arise in the most significant works of Holocaust writing, from Tadeusz Borowski's Auschwitz stories to Jonathan Safran Foer's postmodernist family history. Franklin argues that the memory-obsessed culture of the last few decades has led to a valid form of Holocaust writing. As even the most canonical texts have come under scrutiny for their fidelity to the facts, we have lost sight of the essential role that imagination plays in the creation of any literary work, including the memoir. In sustained and fluent analysis, Franklin provides powerful new interpretations of memoirs by Elie Wiesel and Primo Levi; novels by writers such as Piotr Rawicz, Jerzy Kosinski, W. G. Sebald and Wolfgang Koeppen; and the film Schindler's List. Written by a gifted journalist and literary critic, this graceful and wide-ranging account offers a lucid view of the role of memory and imagination in Holocaust literature that also illuminates broader questions about history, politics, and truth.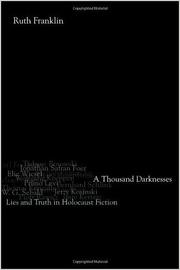 Format

Book

Author/Creator

Franklin, Ruth.

Published

Oxford ; New York : Oxford University Press, 2011

Language
Record last modified: 2010-12-13 09:48:00
This page: https://collections.ushmm.org/search/catalog/bib213975