Philosemitism in history / edited by Jonathan Karp, Adam Sutcliffe.
Publication | Library Call Number: DS148.5 .P55 2011
"Too often philosemitism, the idealization of Jews and Judaism, has been simplistically misunderstood as merely antisemitism in sheep's clothing. This book takes a different approach, surveying the phenomenon from antiquity to the present day, and highlighting its rich complexity and broad impact on Western culture. Philosemitism in History includes fourteen essays by specialist historians, anthropologists, literary scholars and scholars of religion, ranging from medieval philosemitism, to such modern and contemporary topics as the African American depiction of Jews as ethnic role models, the Zionism of Christian evangelicals, pro-Jewish educational television in West Germany, and the current fashion for Jewish kitsch memorabilia in contemporary East-Central Europe. An extensive introductory chapter offers a thorough and original overview of the topic. The book underscores both the endurance and the malleability of philosemitism, drawing attention to this important, yet widely neglected, facet of Jewish - non-Jewish relations"-- Provided by publisher.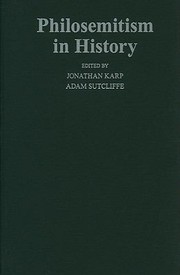 Format

Book

Published

New York : Cambridge University Press, 2011

Language
Record last modified: 2011-06-08 13:38:00
This page: https://collections.ushmm.org/search/catalog/bib218946