Sprawa 58 000 "Volksdeutschów" : sprostowanie hitlerowskich oszczerstw w sprawie strat niemieckiej mniejszości w Polsce w ostatnich miesiącach przed wybuchem wojny i w toku kampanii wrześniowej / Karol Marian Pospieszalski
Publication | Library Call Number: DK4121.5.G4 P67 1981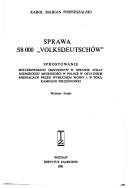 Variant Title

Sprawa 58000 "Volksdeutschów" : sprostowanie hitlerowskich oszczerstw w sprawie strat niemieckiej mniejszości w Polsce w ostatnich miesiącach przed wybuchem wojny i w toku kampanii wrześniowej
Case of 58 000 "Volksdeutsche" : an investigation into Nazi claims concerning losses of the German minority in Poland before and during September 1939

Series

Documenta occupationis ; 7
Documenta occupationis ; 7.

Format

Book

Author/Creator

Pospieszalski, Karol Marian.

Published

Poznań : Instytut Zachodni, 1981
Includes bibliographical references

Edition

Wyd. 2.
Expand all
Record last modified: 2011-07-19 11:15:00
This page: https://collections.ushmm.org/search/catalog/bib219248