The Dreyfus affair : the scandal that tore France in two / Piers Paul Read.
Publication | Library Call Number: DC354 .R33 2012
Captain Alfred Dreyfus was a rising star in the French artillery command. Reserved yet intelligent and ambitious, Dreyfus had everything: a family, money, and a clear path to a prestigious post. However, Dreyfus also had enemies, especially within the impoverished aristocracy, who disliked him because he was rich, bourgeois, and, above all, a Jew. On the basis of flimsy evidence, he was arrested for high treason, and sentenced to life on the legendary, lethal Devil's Island. The saga of Dreyfus's many trials--he was not exonerated until 1906, twelve years after first being arrested--the fight to free him, and the intrigues on both sides, is a fast-moving mystery story rife with heroes and villains, loose women, loyal wives, bisexual men, tricksters, and charlatans. The anti-Semitism and deceit on display in the Dreyfus case was an ominous prelude to the Holocaust and the long, bloody twentieth century to come. The Dreyfus scandal still has much to teach us, and prizewinning novelist, biographer, and narrative historian Piers Paul Read brings this real-life morality tale alive for a new generation.--From publisher description.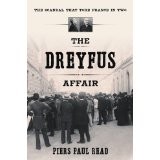 Format

Book

Author/Creator

Read, Piers Paul, 1941-

Published

New York : Bloomsbury Press, 2012

Locale

France

Language

Edition

1st U.S. ed
Record last modified: 2012-08-15 14:11:00
This page: https://collections.ushmm.org/search/catalog/bib227021