Benjamin Ferencz, Nuremberg prosecutor and peace advocate / Tom Hofmann.
Publication | Library Call Number: KF373.F395 H64 2013
" At the conclusion of World War II, war crimes tribunals were carried out at Nuremberg, Germany. Justice was meted out for countless war criminals, and Benjamin Ferencz was one of the chief prosecutors for one of the largest murder trials in history. This is the biography of the last living Nuremberg prosecutor. "-- Provided by publisher.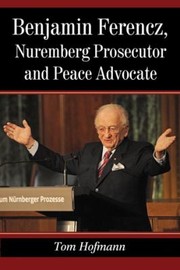 Format

Book

Author/Creator

Hofmann, Tom, 1938-

Published

Jefferson, North Carolina : McFarland & Company, Inc., Publishers, 2013
1311

Locale

United States
Germany
Nuremberg

Language

External Link
Record last modified: 2018-05-04 15:19:00
This page: https://collections.ushmm.org/search/catalog/bib235293