The propaganda war in the Rhineland : Weimar Germany, race and occupation after World War I / Peter Collar.
Publication | Library Call Number: DD238 .C645 2013
"Piecing together a fractured European continent after World War I, the Versailles Peace Treaty stipulated the long-term occupation of the Rhineland by Allied troops. This occupation, perceived as a humiliation by the political right, caused anger and dismay in Germany and an aggressive propaganda war broke out--heightened by an explosion of vicious racist propaganda against the use of non-European colonial troops by France in the border area."--Dust jacket.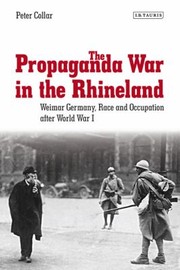 Series

International library of twentieth century history ; vol. 57
International library of twentieth century history ; 57.

Format

Book

Author/Creator

Collar, Peter.

Published

London : I.B. Tauris, 2013
©2013

Locale

Germany

Language
Record last modified: 2022-04-07 12:37:00
This page: https://collections.ushmm.org/search/catalog/bib236617