The clandestine history of the Kovno Jewish ghetto police / by anonymous members of the Kovno Jewish ghetto police ; translated and edited by Samuel Schalkowsky ; introduction by Samuel D. Kassow.
Publication | Library Call Number: DS135.L52 K38293 2014
"As a force that had to serve two masters, both the Jewish population of the Kovno ghetto in Lithuania and its German occupiers, the Kovno Jewish ghetto police walked a fine line between helping Jews survive and meeting Nazi orders. In 1942 and 1943 some of its members secretly composed this history and buried it in tin boxes. The book offers a rare glimpse into the complex situation faced by the ghetto leadership and the Jewish policemen, caught between carrying out the demands of the Germans and mollifying the anger and frustration of their own people. It details the creation and organization of the ghetto, the violent German attacks on the population in the summer of 1941, the periodic selections of Jews to be deported and killed, the labor required of the surviving Jewish population, and the efforts of the police to provide a semblance of stability. The secret history tells a dramatic and complicated story, defending the actions of the police force on one page and berating its leadership on the next. A substantial introduction by distinguished historian Samuel D. Kassow places this powerful work within the context of the history of the Kovno Jewish community and its experience and fate at the hands of the Nazis"--Provided by the publisher.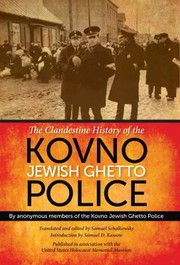 Format

Book

Published

Bloomington : Indiana University Press, [2014]

Locale

Lithuania
Kaunas
Kaunas (Lithuania)

Language

External Link
Record last modified: 2019-07-11 14:37:00
This page: https://collections.ushmm.org/search/catalog/bib237470