Genocide and its threat to contemporary international order / Adrian Gallagher.
Publication | Library Call Number: HV6322.7 .G355 2013
"Genocide refers to the destruction of a group. However, if one is not a member of that group, why should one care about its destruction? In an innovative approach, this interdisciplinary book answers this question by looking at the impact of genocide on contemporary international order rather than appealing, as most books do, to the idea of humanity. Setting out a new definition of genocide, the book explains that genocide holds a special relationship with international legitimacy which is the key to understanding how genocide impacts on the authority of international law, international morality, the United Nations and the United Nations Security Council. Genocide is internationally regarded as the 'crime of crimes' from a legal and moral perspective, it erodes the authority of these ordering principles more than any other crime. From this perspective, the prevention of genocide is in the national interest of all states, that is, if they favour international order"-- Provided by publisher.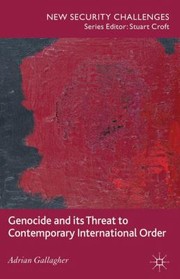 Series

New security challenges series
New security challenges series.

Format

Book

Author/Creator

Gallagher, Adrian, 1981-

Published

Basingstoke, Hampshire ; New York : Palgrave Macmillan, 2013

Language
Record last modified: 2020-11-13 12:02:00
This page: https://collections.ushmm.org/search/catalog/bib239911