Inter-state accountability for violations of human rights / Menno T. Kamminga.
Publication | Library Call Number: K3240.4 .K26 1992
In this important new work, Menno T. Kamminga challenges one of the cornerstones of classic international law: the presumption that states are entitled to exercise diplomatic protection only on behalf of their own nationals. Kamminga offers a systematic re-examination of this proposition. He argues that if a state violates its international human rights obligations, other states are entitled to exercise full protection on behalf of the victims, regardless of their nationality. Not content to look at the issue from a theoretical point of view, Kamminga also offers an empirical approach to his subject. He documents the actual practices of governments and international organizations and tribunals. This combination of the theoretical and the empirical results in a study that is at once carefully and richly detailed - and ultimately fully convincing. Inter-State Accountability for Violations of Human Rights begins with an analysis of diplomatic intercessions on behalf of foreign nationals, providing extensive coverage of historical and contemporary cases. Kamminga examines these intercessions both in a bilateral context and in the context of international organizations. He then relates his findings to the doctrine of state responsibility, as currently being developed by the International Law Commission and the International Court of Justice. Inter-State Accountability for Violations of Human Rights makes an important contribution to the human rights field. It will be of interest to academic researchers, practitioners, policy makers, and advanced students in international law and human rights.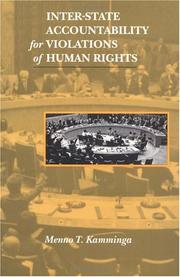 Series

Pennsylvania studies in human rights
Pennsylvania studies in human rights.

Format

Book

Author/Creator

Kamminga, Menno T.

Published

Philadelphia : University of Pennsylvania Press, c1992

Language
Record last modified: 2015-07-13 16:31:00
This page: https://collections.ushmm.org/search/catalog/bib239919