The deluge : the Great War, America, and the remaking of the global order, 1916-1931 / Adam Tooze.
Publication | Library Call Number: D523 .T66 2014
"A century after the outbreak of the First World War, a powerful explanation of why the war's legacy continues to shape our world. The war would make a celebrity out of Woodrow Wilson and would ratify the emergence of the US as the dominant force in the world economy"-- Provided by publisher.

Yale professor Adam Tooze's book takes an entirely new perspective on World War I by widening the scope of inquiry and focusing on the world both before and after the war. His story begins in 1916 and stretches forward to the economic disaster of the Great Depression. It is a narrative encompassing the whole Northern Hemisphere, tracing the strategic arguments within and between eight major powers: Britain, France, Germany, Italy, Japan, Russia, China and the United States. It tells the story of a conflict so violent and tumultuous it threatened to turn the proud national identities of the 19th century on their head. At state was nothing less than the basic political and ideological building blocks of the modern world. Tooze weighs the history of entanglement between the United States and a disequilibrated world, a world of winners and losers, all coming to terms with their new interdependence. The war would make a celebrity out of President Woodrow Wilson, hailed as a great prophet of liberal internationalism, but more important, it would ratify the emergence of the United States as the dominant force in the world economy. Against this backdrop Tooze reevaluates the forces that engendered the collective deflation that made the Great Depression the worst disaster on record.--From publisher description.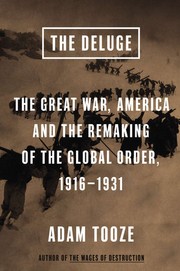 Variant Title

Great War, America, and the remaking of the global order, 1916-1931

Format

Book

Author/Creator

Tooze, J. Adam, author.

Published

New York, New York : Viking, [2014]

Locale

United States

Language
Record last modified: 2015-01-08 12:43:00
This page: https://collections.ushmm.org/search/catalog/bib241289