Desperate deception : British covert operations in the United States, 1939-44 / Thomas E. Mahl.
Publication | Library Call Number: D810.S7 M254 1998
It was a desperate time for England. Faced with the growing prospect of war with Germany in 1939, the British government mounted a massive secret political campaign in the United States to weaken the isolationists, bring America into World War II, and then influence U.S. war policy in England's favor. Desperate Deception reveals Britain's widespread use of front groups, agents, and collaborators and shows how its agents manipulated polling data and influenced election campaigns. This eye-opening book details a vast program that not only helped change the course of the war but also the face of American politics.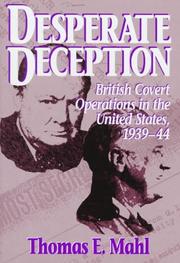 Series

[Brassey's intelligence & national security library]
Brassey's intelligence & national security library.

Format

Book

Author/Creator

Mahl, Thomas E., 1943-

Published

Washington [D.C.] : Brassey's, ©1998

Locale

Great Britain
United States

Language
Record last modified: 2018-11-29 10:23:00
This page: https://collections.ushmm.org/search/catalog/bib244166