A good place to hide : how one French community saved thousands of lives during World War II / Peter Grose.
Publication | Library Call Number: D810.J4 G75 2015
This is the story of an isolated community in the upper reaches of the Loire Valley that conspired to save the lives of 3,500 Jews under the noses of the Germans and the soldiers of Vichy France. It is the story of a pacifist Protestant pastor who broke laws and defied orders to protect the lives of total strangers. It is the story of an eighteen-year-old Jewish boy from Nice who forged 5,000 sets of false identity papers to save other Jews and French Resistance fighters from the Nazi concentration camps. And it is the story of a community of good men and women who offered sanctuary, kindness, solidarity and hospitality to people in desperate need, knowing full well the consequences to themselves.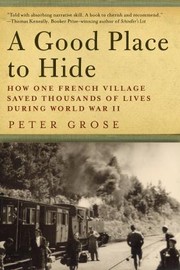 Variant Title

How one French community saved thousands of lives during World War II

Format

Book

Author/Creator

Grose, Peter, 1941- author.

Published

New York, NY : Pegasus Books LLC, 2015

Locale

France
Le Chambon-sur-Lignon
Le Chambon-sur-Lignon (France)
Haute-Loire (France)

Language

Edition

First Pegasus Books hardcover edition
Record last modified: 2015-07-22 08:46:00
This page: https://collections.ushmm.org/search/catalog/bib244466