Inventing the "American way" : the politics of consensus from the New Deal to the civil rights movement / Wendy L. Wall.
Publication | Library Call Number: E743 .W355 2008
"In the wake of World War II, Americans developed an unusually deep and all-encompassing sense of national unity, as postwar affluence and the cold war combined to naturally produce a remarkable level of agreement about the nation's core values - or so the story has long been told. Inventing the "American Way" challenges this vision of inevitable consensus. In this book, Wendy Wall argues that Americans were united, not so much by identical beliefs, but by a shared conviction that a distinctive "American Way" existed and that the affirmation of such common ground was essential to the future of the nation. Moreover, she finds the roots of postwar consensus politics not in the cold war era, but in the turbulent decade that preceded the United States' entry into World War II. The social and economic chaos of the Depression years alarmed a diverse array of groups, as did the rise of two "alien" ideologies: fascism and communism. In this context, Americans of divergent backgrounds and beliefs seized on the notion of a unifying "American Way" and sought to convince their fellow citizens of its merits." "Wall traces the competing - and sometimes collaborative - efforts of business groups, politicians, leftist intellectuals, interfaith proponents, civil rights activists, foreign policy strategists, and many others over nearly three decades to shape public understandings of the "American Way." Along the way, she explores the politics behind cultural productions ranging from The Adventures of Superman to the Freedom Train that circled the nation in the late 1940s. She highlights the intense debate that erupted over the term "democracy" after World War II, and identifies the origins of phrases such as "free enterprise" and the "Judeo-Christian tradition" that remain central to American political life. By uncovering the culture wars of the mid-twentieth century, this book sheds new light on a period that proved pivotal for American national identity and that remains the unspoken backdrop for debates over multiculturalism, national unity, and public values today."--Jacket.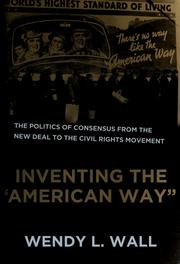 Format

Book

Author/Creator

Wall, Wendy, 1962-

Published

Oxford ; New York : Oxford University Press, 2008

Locale

United States

Language

External Link
Record last modified: 2018-05-02 14:06:00
This page: https://collections.ushmm.org/search/catalog/bib246957