Persuasive images : posters of war and revolution from the Hoover Institution archives / Peter Paret, Beth Irwin Lewis, Paul Paret.
Publication | Library Call Number: D522.25 .P37 1992
Political posters are historical documents. They open windows to the conditions and conflicts of an earlier time. In their designs and slogans we see how governments and political factions responded to economic crises, social change. and ideological and armed conflict, and how they sought to sway the perceptions and feelings of the man and woman in the street. Posters are also aesthetic objects. Their composition, color and symbols are both separate from their overt political message and the instruments of expressing it. Posters reveal their historical meaning more clearly if we pay attention to their visual characteristics as well as to their political intent. This book treats the poster both as art and as historical witness. Posters are not relegated to the secondary role of illustrating a historical text nor are they treated as autonomous aesthetic objects in a history of applied arts. Instead they are substantial components of a historical narrative that is made up of both image and text. The close interaction of words and posters drawn from Russia, central and western Europe, and the United States, opens fresh perspectives on a half century of war and revolution and constitutes a step toward a new kind of integrative history that conveys the past with unusual immediacy.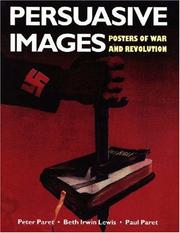 Format

Book

Author/Creator

Paret, Peter.

Published

Princeton, N.J. : Princeton University Press, ©1992

Locale

Soviet Union

Language

External Link
Record last modified: 2018-05-10 16:44:00
This page: https://collections.ushmm.org/search/catalog/bib249471