Guide to review of library collections : preservation, storage, and withdrawal / Dennis K. Lambert ... [et al.].
Publication | Library Call Number: Z687.2.U6 G64 2002
This book is a thorough introduction to the topic for libraries of all types and sizes wishing to plan and formulate reviews of materials in their general collections, regardless of format. This edition addresses the presence of electronic resources in libraries and brings the subject up-to-date for all formats, recognizing that print collections will continue to grow and that issues surrounding the preservation of electronic resources have not been resolved. This Guide is particularly relevant to libraries of all types facing the perennial issues of rapid collection growth, limited space to house collections (with no building expansion on the horizon), and deterioration of collections. All libraries also face the issues of obsolete materials, limited budgets, changing user populations and needs, and new institutional programs, and will find the Guide helpful in dealing with those problems. A major theme is the value of systematic planning in conducting reviews of materials. Reviews that have set goals, identified appropriate participants, identified expected outcomes, and budgeted for expenses will likely be more successful and productive than reviews that lack these elements. Structured in outline form, the Guide provides an introduction to the topic, a review of planning considerations, followed by a complete overview of reviews for preservation, storage, or withdrawal.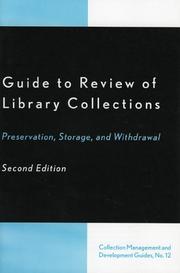 Series

Collection management and development guides ; no. 12
Collection management and development guides ; no. 12.

Format

Book

Published

[Chicago] : Association for Library Collections & Technical Services ; Lanham, Md. : Published in cooperation with Scarecrow Press, 2002

Locale

United States

Language

Edition

2nd ed
Record last modified: 2008-08-14 15:14:00
This page: https://collections.ushmm.org/search/catalog/bib89075