German prisoner of war identification tag worn by a Jewish soldier in the Polish Army
Object | Accession Number: 2007.34.2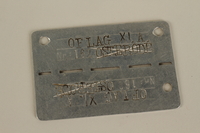 Identification tag issued to Wiktor Lerhaft, a Polish soldier who was imprisoned in Oflag XI, a German prisoner of war (POW) camp from 1939-1945. In September 1939, the Germans invaded Poland and Wiktor was mobilized as a lieutenant in the Polish army. The Germans took him prisoner and he spent the remainder of the war in Oflag [Stalag] XI. A, a POW camp in Altengrabow, Germany. The war ended in May 1945 and Wiktor returned to Krakow. He reunited with his daughter, Roza, who had been deported from the Krakow ghetto in January 1943, and had survived several concentration camps. All of their family members, except one of Wiktor's sisters, were killed during the Holocaust. Since antisemitism was so intense in Poland, they left for a displaced persons camp in Wiesbaden, Germany. They emigrated to the United States in 1949.


Date

use: 1939-1945


Geography

issue: Stalag XI-A; Altengrabow (Germany)


Language

Classification

Category

Object Type

Credit Line

United States Holocaust Memorial Museum Collection, Gift of Rosalyn Orenstein
Record last modified: 2023-10-31 11:44:02
This page: https://collections.ushmm.org/search/catalog/irn518788

Also in Rosalyn Orenstein collection
The collection consists of documents, an identification tag, and photographs relating to the experiences of Wiktor Lerhaft as a German prisoner of war during WWII, and with his family in a displaced persons camp and during their emigration to the United States during the postwar period. Some of these materials may be combined into a single collection in the future.
Date: 1939-1949
Document
Collection consists of documents and photographs: an eight-page typed document with impressions of the Atlantic crossing from Germany to the U.S. by Wiktor Lerhaft in May 1949 and documents from the SS General Howze; photograph of Wiktor Lerhaft, Rosalyn Lerhaft and Regina Landersdorfer on board the SS General Howze and photographs from a Passover Seder at the Jewish Community of Wiesbaden, Germany, 1948.
Document
Two page letter written by Dr. David Lehrhaft, in Krakow, to his younger sister in Newark, NJ in which he describes the political situation in Poland as well as the family situation in Krakow. The two page letter has been laminated.
Document
Collection consists of documents, photographs, identification cards, and scrip.