White cotton tallit katan used by a Polish Jewish elder
Object | Accession Number: 2004.406.3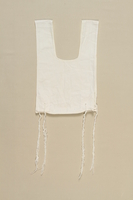 Tallit katan worn by Shlomo Schiller who fled Warez, Poland, with his family to the Soviet Union after the German invasion on September 1, 1939. A tallit katan is a religious garment worn by Jewish men with their daily dress. After Germany invaded the Soviet Union in June 1941, Shlomo, his wife, Henia, his 20 year old daughter, Ania, and his 15 year old twin daughters, Klara and Pola, were evacuated from Kherson to Chelyabinsk in the Ural Mountains. When Chelyabinsk expelled refugees as untrustworthy residents, the family moved to Kopeysk. Shlomo lost his sight due to starvation, and was hospitalized for nine months. After the war ended, the family repatriated to Poland.


Date

use: approximately 1946


Geography

use: Szczecin (Poland)


Classification

Category

Object Type

Credit Line

United States Holocaust Memorial Museum Collection, Gift of Klara Gorysznik-Meszel
Record last modified: 2021-02-10 09:17:30
This page: https://collections.ushmm.org/search/catalog/irn522109

Also in Shlomo Schiller family collection
The collection consists of a tallit, a tallit katan, and photographs relating to the experiences of Shlomo Schiller and his family in Poland before and after the Holocaust, and in the Soviet Union during the Holocaust.
Document
The photographs depict the Schiller family's life in Warez, Poland, before World War II, their escape from Nazi Germany to Russia in 1939, their return to Poland in 1946, and their eventual immigration to Israel.
Object
Blue striped tallit gadol carried by Shlomo Schiller when he and his family fled Warez, Poland, to the Soviet Union after the German invasion on September 1, 1939. He prayed in this tallit, a prayer shawl worn by Jewish men during morning services, every day of his life until his death in 1964. After Germany invaded the Soviet Union in June 1941, Shlomo, his wife, Henia, his 20 year old daughter, Ania, and his 15 year old twin daughters, Klara and Pola, were evacuated from Kherson to Chelyabinsk in the Ural Mountains. When Chelyabinsk expelled refugees as untrustworthy residents, the family moved to Kopeysk. Shlomo lost his sight due to starvation, and was hospitalized for nine months. After the war ended, the family repatriated to Poland.