Anti-communist poster stamp with an eagle
Object | Accession Number: 2018.233.2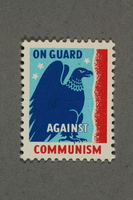 Anti-communism poster stamp distributed in the United States. Poster stamps were collectable stamps, slightly larger than postage stamps, with designs similar to posters. Although they were not valid for postage, poster stamps could be affixed to letters and envelopes as a means for fundraising, propaganda, and educational purposes. During the twentieth century, the United States' relationship with communist countries shifted between cautious cooperation and often bitter rivalry. Initially, the U.S. government was opposed to a state ideologically based on communism, and did not establish diplomatic relations with the communist Soviet Union until 1933. World War II (1939-1945) brought the two countries into alliance with the common aim of defeating Nazi Germany. Three months after the German invasion of the Soviet Union in June 1941, the United States extended assistance to the Soviets via the Lend-Lease Act of March 1941. However, the common goal of winning the war did not prevent tensions from developing between the two powers. The Soviet Union was frustrated with what it felt was a long delay of opening a second front against the Germans to relieve pressure on the Soviet forces. Before the conclusion of the war, the Soviet Union's anti-democratic policies toward Eastern Europe and disagreements about postwar goals renewed tensions between the two nations. After the war, the Soviet takeover of East European nations, as well as policy and ideological disagreements between the leaders of the Soviet Union, the U.S., and other western democracies hardened relations between the U.S. and the Soviets. The two nations entered into a Cold War; a period of tension, competition, and localized conflict short of full scale-war characterized by mutual distrust and perceptions of hostility.


Alternate Title

On Guard

Date

undated:


Geography

distribution: United States


Language

Classification

Category

Object Type

Genre/Form

Credit Line

United States Holocaust Memorial Museum Collection, Gift of Forrest James Robinson, Jr.
Record last modified: 2020-08-27 12:53:30
This page: https://collections.ushmm.org/search/catalog/irn612165

Also in Forrest James Robinson Jr. collection
The collection consists of 33 American WWII era poster stamps, which include images commemorating Poland and France, Peace for America, the National Recovery Administration, the Council against Intolerance in America, V for Victory, and other subjects.