Poster stamp encouraging Americans to buy war bonds
Object | Accession Number: 2018.233.5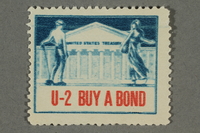 Poster stamp encouraging the United States public to buy War Bonds and support American involvement in World War II. Poster stamps were collectable stamps, slightly larger than postage stamps, with designs similar to posters. Although they were not valid for postage, poster stamps could be affixed to letters and envelopes as a means for fundraising, propaganda, and educational purposes. War bonds were offered by the United States Government for purchase by the public; purchasers would keep the bond and be reimbursed for its return at a later date. On May 1, 1941, the first Series E U.S. Savings Bond was sold to President Franklin D. Roosevelt by Secretary of the Treasury Henry Morgenthau, Jr. There were eight war loan drives conducted from 1942 to 1945. Bonds were advertised in newspapers, magazines, radio broadcasts, and also with posters and poster stamps. Quotas were set up on the national, state, county, and town levels to encourage their sale, and volunteers went door-to-door to sell war bonds. Purchasing bonds was considered patriotic and an investment in victory. The public could purchase a $25 war bond for $18.75, which would be used to help finance the war effort. The war bond could be redeemed 10 years after the purchase for the full twenty-five dollars. Beginning in 1942, Americans could buy bonds on an installment plan through payroll deductions at their work places. Additionally, children could buy a twenty-five-cent stamp and paste them in a book until they had saved the $18.75 needed to purchase a $25 bond. The War Finance Committees, in charge of the loan drives, sold a total of $185.7 billion in bonds during the war.


Alternate Title

U-2 Buy a Bond

Date

publication/distribution: 1941-1945


Geography

distribution: United States


Language

Classification

Category

Object Type

Genre/Form

Credit Line

United States Holocaust Memorial Museum Collection, Gift of Forrest James Robinson, Jr.
Record last modified: 2020-08-27 12:56:22
This page: https://collections.ushmm.org/search/catalog/irn612168

Also in Forrest James Robinson Jr. collection
The collection consists of 33 American WWII era poster stamps, which include images commemorating Poland and France, Peace for America, the National Recovery Administration, the Council against Intolerance in America, V for Victory, and other subjects.