Raoul Wallenberg : rescuing thousands from the Nazis' grasp / Debra McArthur.
Publication | Library Call Number: D804.66.W35 M33 2005
Documents the Swedish diplomat's heroic actions during the Holocaust, and his mysterious death following Soviet imprisonment. In the midst of the horrors of the Holocaust, Raoul Wallenberg, a Swedish diplomat in Hungary, had one goal: to save as many Jews as possible from Nazi execution. Debra McArthur details the life of an extraordinary man who gave everything, including his life, in the service of humanity. In the face of overwhelming cruelty, he proved that one person can make a difference.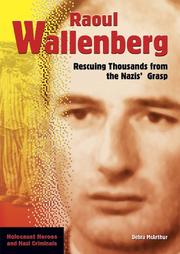 Series

Holocaust heroes and Nazi criminals
Holocaust heroes and Nazi criminals.

Format

Book

Author/Creator

McArthur, Debra.

Published

Berkeley Heights, NJ : Enslow Publishers, c2005

Locale

Hungary
Sweden

Language

External Link
Record last modified: 2018-05-02 14:05:00
This page: https://collections.ushmm.org/search/catalog/bib111770