Modern Judaism : an Oxford guide / edited by Nicholas de Lange [and] Miri Freud-Kandel.
Publication | Library Call Number: BM42 .M63 2005
"A multi-disciplinary, multi-authored guide to Jewish life and thought. This book covers the major areas of thought in Jewish Studies, including considerations of religious differences, sociological, philosophical, and gender issues, geographical diversity, inter-faith relations, and the impact of the Shoah (the Holocaust) and the modern state of Israel" --Provided by publisher.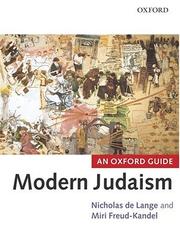 Format

Book

Published

Oxford ; New York : Oxford University Press, 2005

Language

External Link
Record last modified: 2020-01-08 11:55:00
This page: https://collections.ushmm.org/search/catalog/bib113582