The world at war Thames ; FremantleMedia ; The History Channel ; directed by Sir Jeremy Isaacs.
Publication | Library Call Number: DVD-0978 v. 1-11
An extraordinary collection of newsreel, propaganda, and home-movie footage drawn from the archives of 18 nations, including color close-ups of Adolf Hitler taken by his mistress, that present an unvarnished perspective of the war's pivotal events. Penetrating interviews with eyewitness participants - from Hitler's secretary to Alger Hiss to ordinary citizens who stood outside the battle lines - and spine-tingling, first-hand accounts to an already unforgettable experience.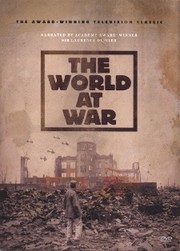 Format

Video

Published

New York : A & E Home Video ; Distributed by New Video, 2004

Locale

France
Great Britain
Pacific Ocean
Africa, North
Germany
Japan
Hiroshima-shi (Japan)

Language
Record last modified: 2012-01-20 16:27:00
This page: https://collections.ushmm.org/search/catalog/bib128921