Lenin, Stalin, and Hitler : the age of social catastrophe / Robert Gellately.
Publication | Library Call Number: JC495 .G45 2007
This ambitious book tells the story of the great social and political catastrophe that enveloped Europe between 1914 and 1945--a period of almost continuous upheaval, with two world wars, the Russian Revolution, the Holocaust, and the Third Reich. Historian Gellately argues that these tragedies are inextricably linked and that to consider them as discrete events is to misunderstand their genesis and character. Central to the catastrophe, of course, were Lenin, Stalin, and Hitler, and this book makes use of recently opened sources to explain how these dictators' pursuit of utopian--and dreadfully flawed--ideals led only to dystopian nightmare. Gellately argues that most comparative studies of the Soviet and Nazi dictatorships are undermined by neglecting the key importance of Lenin. Rejecting the myth of the "good" Lenin, the book provides a convincing social-historical account of all three dictatorships.--From publisher description.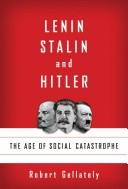 Format

Book

Author/Creator

Gellately, Robert, 1943-

Published

New York : Alfred A. Knopf, 2007

Locale

Soviet Union
Germany

Language

External Link

Edition

1st ed
Record last modified: 2018-05-10 16:44:00
This page: https://collections.ushmm.org/search/catalog/bib137786