Holocaust Titus Productions ; CBS Broadcasting ; Paramount Pictures ; produced by Robert 'Buzz' Berger ; written by Gerald Green ; directed by Marvin J. Chomsky.
Publication | Library Call Number: DVD-0494
Follows the tragedy and triumph of the Weiss family of Berlin and intertwines their fate as European Jews with the story of a German family, the Dorfs, whose members include a high-ranking Nazi officer. Kristallnacht, the "night of broken glass" occurs and the Weiss family suffer a series of unspeakable tragedies in the aftermath.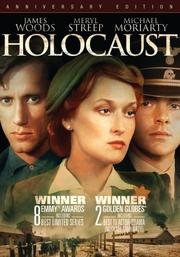 Format

Video

Published

Hollywood, Calif. : Paramount Home Entertainment, [2008]

Locale

Germany
Poland
Warsaw

Language

Edition

Anniversary ed
Record last modified: 2017-12-18 14:45:00
This page: https://collections.ushmm.org/search/catalog/bib141350