Résistance : a woman's journal of struggle and defiance in occupied France / Agnès Humbert ; translated from the French and with notes by Barbara Mellor ; afterword by Julien Blanc.
Publication | Library Call Number: D805.G3 H7713 2008
A real-life Suite Française, this riveting diary by a key female member of the French Resistance in WWII is translated into English for the first time. Agnès Humbert was an art historian in Paris during the German occupation in 1940. Though she might well have weathered the oppressive regime, Humbert was stirred to action by the atrocities she witnessed. In an act of astonishing bravery, she joined forces with several colleagues to form an organized resistance--very likely the first such group to fight back against the occupation. (In fact, their newsletter, Résistance, gave the French Resistance its name.) In the throes of their struggle for freedom, the members of Humbert's group were betrayed to the Gestapo; Humbert herself was imprisoned. In immediate, electrifying detail, Humbert describes her time in prison, her deportation to Germany, where for more than two years she endured a string of brutal labor camps, and the horror of discovering that seven of her friends were executed by a firing squad. But through the direst of conditions, and ill health in the labor camps, Humbert retains hope for herself, for her friends, and for humanity. Originally published in France in 1946, the book was soon forgotten and is now translated into English for the first time.--From publisher description.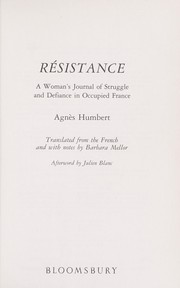 Uniform Title

Notre guerre. English

Format

Book

Author/Creator

Humbert, Agnès.

Published

New York : Bloomsbury, 2008

Locale

France
Germany

Language

Edition

1st U.S. ed
Record last modified: 2008-12-08 10:15:00
This page: https://collections.ushmm.org/search/catalog/bib143554