Lass uns über Auschwitz sprechen : Gedenkstätte, Museum, Friedhof : Begegnungen mit dem Weltkulturerbe Auschwitz / Bettina Schaefer (Hrsg.).
Publication | Library Call Number: D805.5.A96 L377 2009
Auschwitz in the 21st century has a unique place in European and German history, for Germans, and for the approximately 1.2 million visitors who come here from all over the world. Bettina Schaefer has conducted interviews with Holocaust survivors, camp visitors, specialists, and employees of the Auschwitz-Birkenau State Museum, and their knowledge and experience are excellent preparation for those planning a visit.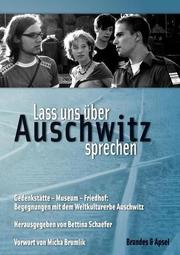 Format

Book

Published

Frankfurt am Main : Brandes & Apsel, 2009

Locale

Poland

Language

External Link

Edition

1. Aufl
Record last modified: 2009-10-14 09:51:00
This page: https://collections.ushmm.org/search/catalog/bib147743