Artists in exile : how refugees from twentieth-century war and revolution transformed the American performing arts / Joseph Horowitz.
Publication | Library Call Number: PN2266.3 .H67 2008
George Balanchine, in collaboration with Stravinsky, famously created an Americanized version of Russian classical ballet. Kurt Weill, schooled in Berlin jazz, composed a Broadway opera. Rouben Mamoulian's revolutionary Broadway productions of Porgy and Bess and Oklahoma! drew upon Russian "total theater." An army of German filmmakers--among them F. W. Murnau, Fritz Lang, Ernst Lubitsch, and Billy Wilder--made Hollywood more edgy and cosmopolitan. Greta Garbo and Marlene Dietrich redefined film sexuality. Erich Korngold upholstered the sound of the movies. Rudolf Serkin inspirationally inculcated dour Germanic canons of musical interpretation. An obscure British organist reinvented himself as "Leopold Stokowski." However, most of these gifted émigrés to the New World found that the freedoms they enjoyed in America diluted rather than amplified their high creative ambitions. Russians uprooted from St. Petersburg became "Americans"--they adapted. Representatives of Germanic culture, by comparison, preached a German cultural bible--they colonized.--From publisher description.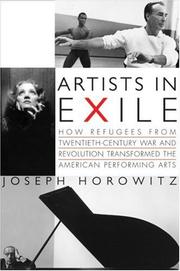 Format

Book

Author/Creator

Horowitz, Joseph, 1948-

Published

New York : HarperCollins Publishers, c2008

Locale

United States

Language

Edition

1st ed
Record last modified: 2009-07-09 16:21:00
This page: https://collections.ushmm.org/search/catalog/bib148945