Ivan's war : life and death in the Red Army, 1939-1945 / Catherine Merridale.
Publication | Library Call Number: D764 .M395 2006
A narrative of the ordinary Russian soldier's experience of the worst war in history, based on newly revealed sources. The men and women of the Red Army, a ragtag mass of soldiers, confronted Europe's most lethal fighting force and by 1945 had defeated it. Sixty years have passed since their epic triumph, but the heart and mind of Ivan--as the ordinary Russian soldier was called--remain a mystery. We know something about how the soldiers died, but nearly nothing about how they lived, how they saw the world, or why they fought. Drawing on previously closed military and secret police archives, interviews with veterans, and private letters and diaries, Merridale presents the first comprehensive history of the Red Army rank and file, revealing the singular mixture of courage, patriotism, anger, and fear that made it possible for these underfed, badly led troops to defeat the Nazi army.--From publisher description.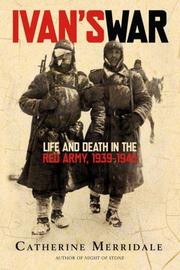 Format

Book

Author/Creator

Merridale, Catherine, 1959-

Published

New York : Picador ; Henry Holt and Company, 2006

Locale

Eastern Front
Soviet Union

Language

External Link
Record last modified: 2018-05-10 14:02:00
This page: https://collections.ushmm.org/search/catalog/bib209440