Eros and inwardness in Vienna : Weininger, Musil, Doderer / David S. Luft.
Publication | Library Call Number: DB851 .L84 2003
"In this probing new study, David Luft recovers the work of three writers: Otto Weininger, Robert Musil, and Heimito von Doderer. His account emphasizes the distinctive world of liberal Vienna, especially the impact of Schopenhauer and Nietzsche, in this highly scientific intellectual milieu." "According to Luft, Otto Weininger viewed human beings as bisexual and applied this theme to issues of creativity and morality. Robert Musil developed a creative ethics that was closely related to his open, flexible view of sexuality and gender. And Heimito von Doderer portrayed his own sexual obsessions as a way of understanding the power of total ideologies, including his own attraction to National Socialism. For Luft, the significance of these three writers lies in their understandings of eros and inwardness and in the roles that both play in ethical experience and the formation of meaningful relations to the world - process that continues to engage artists, writers and thinkers today." "Eros and Inwardness in Vienna will profoundly reshape our understanding of Vienna's intellectual history. It will be important for anyone interested in Austrian or German history, literature, or philosophy."--BOOK JACKET.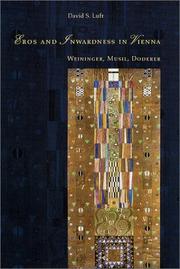 Format

Book

Author/Creator

Luft, David S.

Published

Chicago : University of Chicago Press, c2003

Locale

Vienna (Austria)
Austria
Vienna

Language
Record last modified: 2018-05-16 13:18:00
This page: https://collections.ushmm.org/search/catalog/bib210238