Martin Luther, German saviour : German evangelical theological factions and the interpretation of Luther, 1917-1933 / James M. Stayer.
Publication | Library Call Number: BR856 .S815 2000
"Theological trend-setters in Germany after World War I were dogmatic or systematic theologians. Whether men of the right like Karl Holl or men of the left like Karl Barth, they wanted to return to Luther's fundamental Reformation theology and to justification through faith alone. In the mid-1920s, however, Barth saw the dangers posed by Lutheran theocentrism wedded to German nationalism and moved towards a more Reformed Christology and a greater critical distance from Luther. The other six major Weimar-era theologians discussed - Karl Holl, Friedrich Gogarten, Werner Elert, Paul Althaus, Emanuel Hirsch, and Erich Vogelsand - connected their theology to their Luther studies and to their hopes for the rebirth of Germany after the humiliation of the Treaty of Versailles."--BOOK JACKET.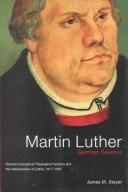 Series

McGill-Queen's studies in the history of religion. Series two
McGill-Queen's studies in the history of religion.

Format

Book

Author/Creator

Stayer, James M.

Published

Montreal ; Ithaca : McGill-Queen's University Press, c2000

Locale

Germany

Language
Record last modified: 2012-01-20 17:03:00
This page: https://collections.ushmm.org/search/catalog/bib213274