The Oxford handbook of Holocaust studies / edited by Peter Hayes and John K. Roth.
Publication | Library Call Number: D652 .O94 2010
Summary: Few scholarly fields have developed in recent decades as rapidly and vigorously as Holocaust Studies. The persecution and murder perpetrated by the Nazi regime have become the subject of an enormous literature in multiple academic disciplines and a touchstone of public and intellectual discourse - including politics, ethics and religion - at the start of the twenty-first century. Forward-looking and multi-disciplinary, this Handbook is thematically divided into five broad sections: Enablers, Protagonists, Settings, Representations, and Aftereffects. It draws on the work of an international team of over forty outstanding scholars.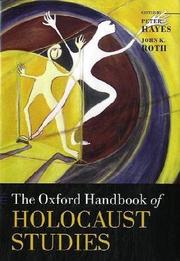 Variant Title

Holocaust studies

Series

[Oxford handbooks]
Oxford handbooks.

Format

Book

Published

Oxford ; New York : Oxford University Press, 2010

Language
Record last modified: 2014-02-04 12:21:00
This page: https://collections.ushmm.org/search/catalog/bib214580