Assignment, Shanghai : photographs on the eve of revolution / photographs by Jack Birns ; edited by Carolyn Wakeman and Ken Light ; with a foreword by Orville Schell.
Publication | Library Call Number: DS796.S257 B57 2003
"Shipping out to China in December 1947 with three ten-year-old cameras and a plum assignment from Life magazine, Jack Birns was fulfilling a boyhood dream. The reality was something else: refugees and prostitutes, soldiers and beggars, street executions and urban protests photographed in difficult and often dangerous circumstances amid the poverty, corruption, and chaos of an expanding civil war. By then the ruling Nationalist Party had been battling the Communist threat for more than two decades, and Birns focused his camera on the human drama unfolding as war pressed ever closer to the country's financial, cultural, and commercial capital. His effort to show China's misery up close ran afoul of Time-Life publisher Henry R. Luce's fervent anti-Communism, and for half a century many of these historic photographs lay unpublished in Time-Life's archives. Printed here for the first time, they offer a graphic vision of a great city, Shanghai, poised on the precipice of political revolution."--BOOK JACKET.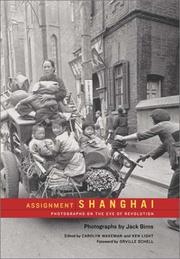 Series

Series in contemporary photography ; 2
Series in contemporary photography ; 2.

Format

Book

Author/Creator

Birns, Jack, 1919-

Published

Berkeley : University of California Press, 2003

Locale

Shanghai (China)
China

Language
Record last modified: 2018-05-16 13:18:00
This page: https://collections.ushmm.org/search/catalog/bib218959