The forgotten French : exiles in the British Isles, 1940-44 / Nicholas Atkin.
Publication | Library Call Number: D809.G7 A85 2003
"It is widely assumed that the French in the British Isles during the Second World War were fully-fledged supporters of General de Gaulle, and that across the channel at least, the French were a 'nation of resisters'. This highly provocative study reveals that most exiles were on British soil by chance rather than by design, and many were not sure whether to stay. Overlooked by historians, who have concentrated on the 'Free French' of de Gaulle, these were the 'Forgotten French': refugees swept off the beaches of Dunkirk; servicemen held in camps after the Franco-German armistice; Vichy consular officials left to cater for their compatriots; and a sizeable colonist community based mainly in London.".
"Illustrated throughout, this is essential reading for anyone interested in the British and French experiences of the Second World War."--BOOK JACKET.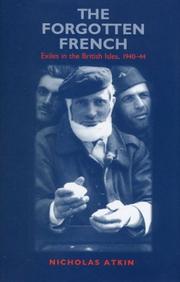 Format

Book

Author/Creator

Atkin, Nicholas.

Published

Manchester ; New York : Manchester University Press : Distributed exclusively in the USA by Palgrave, 2003

Locale

Great Britain
France

Language
Record last modified: 2012-03-08 09:51:00
This page: https://collections.ushmm.org/search/catalog/bib224097