Cities, sin, and social reform in imperial Germany / Andrew Lees.
Publication | Library Call Number: HT137 .L354 2002
"Cities, Sin, and Social Reform in Imperial Germany breaks new ground in the history of social thought and action in Germany from 1870 to 1914. Examining a variety of attitudes and programs, the book emphasizes socially liberal efforts to counteract perceived problems in the area of moral behavior through progressive reforms. It thus points the reader toward connections and parallels between Germany and other parts of the transatlantic world.".

"Cities, Sin, and Social Reform considers a broad spectrum of responses not only to the breakdown of social cohesion in general, but also to specific forms of deviant behavior. The author draws on large numbers of writings from the period by clergymen, jurists, medical doctors, educators, social workers, and others, and focuses on activists as well as writers. This literature illuminates the histories not only of urbanization, but also of sexuality, Christianity, leisure, education, and women.".

"Focusing on positive instead of escapist responses to the challenges that inhered in urban society, this work can be read as part of an ongoing reassessment of the German Empire that points away from the idea that Germans were traveling an antimodernist Sonderweg, or special path, that led inevitably to National Socialism and the Third Reich."--BOOK JACKET.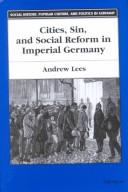 Series

Social history, popular culture, and politics in Germany
Social history, popular culture, and politics in Germany.

Format

Book

Author/Creator

Lees, Andrew, 1940-

Published

Ann Arbor, Mich. : The University of Michigan Press, c2002

Locale

Germany

Language
Record last modified: 2018-05-16 13:18:00
This page: https://collections.ushmm.org/search/catalog/bib228383