Death in the Baltic : The World War II sinking of the Wilhelm Gustloff / Cathryn J. Prince.
Publication | Library Call Number: D772.3 .P76 2013
Draws on survivor interviews and newly declassified records to offer insight into the sinking of the World War II refugee ship that killed over nine thousand people, an incident that was covered up by both Eastern and Western officials.

January, 1945. With the Third Reich in free fall, Berlin plans an eleventh-hour exodus for the German civilians trapped in the Red Army's way. More than 10,000 women, children, sick, and elderly pack aboard the Wilhelm Gustloff, a former cruise ship. Soon after the ship leaves port and the passengers sigh in relief, three Soviet torpedoes strike it. More than 9,400 perished in the night-- six times the number lost on the Titanic-- and no one wanted to acknowledge the sinking. Prince reconstructs this forgotten moment in history, finally giving this tragedy its rightful remembrance.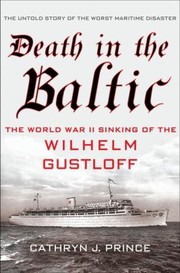 Format

Book

Author/Creator

Prince, Cathryn J., 1969-

Published

New York : Palgrave Macmillan, 2013

Locale

Baltic Sea
Prussia, East (Poland and Russia)

Language

External Link

Edition

First edition
Record last modified: 2013-09-10 13:32:00
This page: https://collections.ushmm.org/search/catalog/bib233803