Bosnia remade : ethnic cleansing and its reversal / Gerard Toal & Carl Dahlman.
Publication | Library Call Number: DR1313.7.A85 T63 2011
Bosnia Remade is an authoritative account of ethnic cleansing and its partial undoing from the onset of the 1990's Bosnian wars up through the present. Gerard Toal and Carl Dahlman combine a bird's eye view of the entire ward from onset to aftermath with a microlevel account of three towns that underwent ethnic cleansing and-later-the return of refugees. There have been two major attempts to remake the entire geography of Bosnia since 1991. In the First instance, ascendant ethnonationalist forces tried to eradicate the mixed ethnic geographies of Bosnia's towns, villages, and communities. These forces devastated tens of thousands of homes and lives, but they failed to destroy Bosnia-Herzegovina as a polity. In the second attempt, which followed the war, the international community, in league with Bosnian officials, endeavored to reverse the demographic and other consequences of this ethnic cleansing. While progress has been uneven, this latter effort has transformed the ethnic demography of Bosnia and moved the nation beyond its recent segregationist past. --Book Jacket.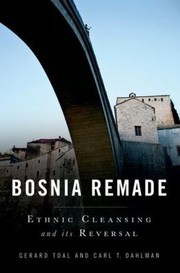 Format

Book

Author/Creator

Toal, Gerard.

Published

New York : Oxford University Press, 2011

Locale

Bosnia and Herzegovina
Bosnia and Hercegovina

Language

External Link
Record last modified: 2018-05-10 16:43:00
This page: https://collections.ushmm.org/search/catalog/bib234104