Year zero : a history of 1945 / Ian Buruma.
Publication | Library Call Number: D840 .B88 2013
A history professor describes the events during the year World War II ended, beginning a new era of prosperity in America, rebirth and rebuilding in Europe, and the start of the Cold War era.

A global history of the pivotal year 1945 as a new world emerged from the ruins of World War II. Regime change had come on a global scale: across Asia (including China, Korea, Indochina, and the Philippines, and of course Japan) and all of continental Europe. Out of the often vicious power struggles that ensued emerged the modern world as we know it. In human terms, the scale of transformation is almost impossible to imagine. Great cities around the world lay in ruins, their populations decimated, displaced, starving. Harsh revenge was meted out on a wide scale, and the ground was laid for much horror to come. At the same time, the euphoria of the liberated was extraordinary. The postwar years gave rise to the European welfare state, the United Nations, decolonization, Japanese pacifism, the European Union, and the Cold War.--From publisher description.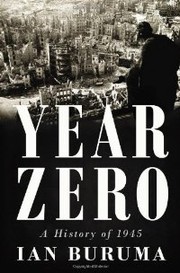 Variant Title

Year 0

Format

Book

Author/Creator

Buruma, Ian, author.

Published

New York : The Penguin Press, 2013

Language
Record last modified: 2013-11-04 14:42:00
This page: https://collections.ushmm.org/search/catalog/bib234324