The holocaust as colonial genocide : Hitler's 'Indian Wars' in the 'Wild East' / Carroll P. Kakel, III.
Publication | Library Call Number: D804.3 .K353 2013
"Challenging the dominant narrative of the murder of European Jewry, Pete Kakel's small book is distinctive in a number of ways. Firstly, unlike most explanations which ignore, downplay, or undervalue the Holocaust's colonial dimensions, it places the Nazi colonial-imperial enterprise front-and-centre in understanding why the Holocaust happened. Additionally, while acknowledging the Holocaust's multiple causes, it identifies western-style colonialism/racial imperialism as the single most important contributor to the Holocaust's occurrence. And lastly, arguing that it is no longer tenable to restrict the term 'Holocaust' to the murder of European Jews, it suggests a broadening of the usage of 'Holocaust' to include the Nazi genocide of non-Jewish noncombatants by the Nazis and their collaborators.

Within this paradigm, readers can understand the Holocaust as part of the emerging global histories of imperialism, colonialism, and genocide. Rather than an aberration or 'unique' event, Kakel locates the Holocaust as part of a continuum of western colonialism/racial imperialism, featuring genocidal violence against noncombatants, while also illuminating the Nazi Judeocide's terrible specificities."--Pub. desc.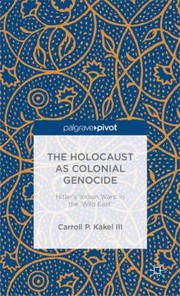 Series

Palgrave pivot
Palgrave pivot.

Format

Book

Author/Creator

Kakel, Carroll P., 1947- author.

Published

Houndsmill, Basingstoke, Hampshire : Palgrave Macmillan, 2013

Language
Record last modified: 2015-01-20 16:03:00
This page: https://collections.ushmm.org/search/catalog/bib235311