From exile to Washington : a memoir of leadership in the twentieth century / W. Michael Blumenthal.
Publication | Library Call Number: E840.8.B59 A3 2013
"Born in Weimar Germany, W. Michael Blumenthal grew up during the ascent of the Third Reich. He and his family fled from the Nazis to the other side of the world--first to Shanghai, then to America. There, he made a career in business and politics, as anadviser to President Kennedy and as the Secretary of the Treasury under President Carter. In 1997, after a half century as an American, he did what many German Jews would never consider: He returned to Berlin. In Full Circle, Blumenthal explains how hislife experiences led him to reaccept his German homeland. He vividly describes his youth in Berlin during Nazi rule, his dramatic escape to Japanese occupied China, and the life he made in the United States. Whether as a professor of economics, a business leader, or a presidential adviser, Blumenthal has always been keenly attuned to current events. With the authority of an elder statesman, Blumenthal presents a compelling view of a new Germany--one that has been forced to confront its own dark past and become a world leader once again. "-- Provided by publisher.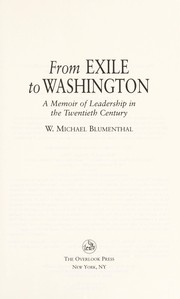 Format

Book

Author/Creator

Blumenthal, W. Michael, 1926-

Published

Penguin Group USA 2013
New York, NY : Overlook Press, 2013
1310

Locale

United States
Germany

Language

External Link

Edition

First edition
Record last modified: 2014-01-15 16:21:00
This page: https://collections.ushmm.org/search/catalog/bib235763