On American soil : how justice became a casualty of World War II / Jack Hamann.
Publication | Library Call Number: KF7641 .H36 2005
On a hot August night in 1944, a soldier's body was discovered hanging by a rope from a cable spanning an obstacle course at Seattle's Fort Lawton. The body was identified as Private Guglielmo Olivotto, one of the thousands of Italian prisoners of war captured and brought to America. The murder stunned the nation and the international community. Under pressure to respond quickly, the War Department convened a criminal trial at the fort, charging three African American soldiers with the lynching and first-degree murder of Private Olivotto. Forty other soldiers were charged with rioting, accused of storming the Italian barracks on the night of the murder. All forty-three soldiers were black. There was no evidence implicating any of these men. Leon Jaworski, later the lead prosecuter at the Watergate trial, was appointed to prosecute the case and seek the death penalty for three men who were most assuredly innocent. Through his access to previously classified documents and the information gained from extensive interviews, journalist Jack Hamann tells the whole story behind World War II's largest army court-martial - a story that raises important questions about how justice is carried out when a country is at war. --Publisher.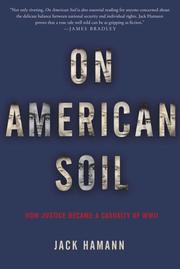 Format

Book

Author/Creator

Hamann, Jack, 1954-

Published

Chapel Hill, N.C. : Algonquin Books of Chapel Hill, 2005

Locale

Washington (State)
Seattle
Italy
Fort Lawton (Seattle, Wash.)

Language

External Link

Edition

1st ed
Record last modified: 2014-01-15 15:57:00
This page: https://collections.ushmm.org/search/catalog/bib235955