Agnon and Germany : the presence of the German world in the writings of S.Y. Agnon / edited by Hans-Jürgen Becker, Hillel Weiss.
Publication | Library Call Number: PJ5053.A4 Z544 2010
"This book includes studies and research on Agnon's work in Germany between the years 1913 and 1924, during which time his art earned its classic status. The studies deal also with the influence of the German world and its culture on his entire work. The development of the work of S.Y. Agnon (1887-1970), the greatest of Jewish storytellers in the Hebrew language, reached a definitive and lasting peak that crystallized in the years that Agnon lived in Germany (1912-1924). The nature of this consolidation is presented to the reader in the present work, Agnon and Germany, the product of research conducted by two groups of scholars, the German group headed by Hans-Jürgen Becker and the Israeli group headed by Hillel Weiss. The German period extends beyond the physical presence of Agnon in Germany and also includes the period primarily after he went back to the land of Israel in 1924, and, in a way, until his death in 1970. The German world, alongside the Jewish world that was the mainstay of his writing, is present as a challenging element, symbiotic and antithetical, in all of his writings, especially in some of the longer novels and novellas that he published close upon World War II and afterward as a reaction to the Holocaust and its roots in the Jewish-German experience throughout history."--Amazon.com.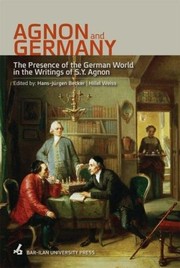 Format

Book

Published

Ramat Gan : Bar-Ilan University Press, [2010]

Language
Record last modified: 2014-01-17 10:09:00
This page: https://collections.ushmm.org/search/catalog/bib236024