Age of entanglement : German and Indian intellectuals across empire / Kris Manjapra.
Publication | Library Call Number: DS428 .M36 2014
"Age of entanglement explores patterns of connection linking German and Indian intellectuals from the nineteenth century to the years after the Second World War. Kris Manjapra traces the intersecting ideas and careers of a diverse collection of individuals from South Asia and Central Europe who shared ideas, formed networks, and studied one another's worlds. Moving beyond well-rehearsed critiques of colonialism toward a new critical approach, this study recasts modern intellectual history in terms of the knotted intellectual itineraries of seeming strangers."-- Publisher description.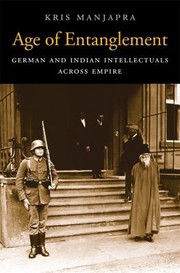 Series

Harvard historical studies ; 183
Harvard historical studies ; v. 183.

Format

Book

Author/Creator

Manjapra, Kris, 1978-

Published

Cambridge, Massachusetts : Harvard University Press, 2014

Locale

India
Germany

Language
Record last modified: 2014-03-07 15:28:00
This page: https://collections.ushmm.org/search/catalog/bib236632