The eternal Nazi : from Mauthausen to Cairo, the relentless pursuit of SS doctor Aribert Heim / Nicholas Kulish and Souad Mekhennet.
Publication | Library Call Number: DD247.H3543 K85 2014
"The compelling story of the hunt for Aribert Heim, whose decades-long flight from justice turned a mid-level SS officer and concentration camp doctor into the most wanted Nazi war criminal in the world Dr. Aribert Heim worked at the Mauthausen concentration camp for only a few months in 1941 but left a horrifying mark on the memories of survivors. According to their testimony, Heim euthanized patients with injections of gasoline into their hearts. He performed surgeries on otherwise healthy people. Some recalled prisoners' skulls set out on his desk to display perfect sets of teeth. In the chaos of the postwar period, Heim was able to slip away from his dark past and establish himself as a reputable doctor in the resort town of Baden-Baden. He was tall, handsome, a bit of a charmer, and quickly settled down with a wife and children in peace and comfort. But certain rare individuals in Germany were unwilling to let Nazi war criminals go unpunished. Among them was a police investigator named Alfred Aedtner, who turned finding Heim into an overriding obsession; his quest took him across Europe and across decades, and into a close alliance with legendary Nazi hunter Simon Wiesenthal. This is the incredible story of how Aribert Heim evaded capture, living in a working-class neighborhood of Cairo, praying in Arabic, beloved by an adopted Muslim family, while inspiring a manhunt that outlived him by many years. He became the "Eternal Nazi," a symbol of Germany's evolving attitude toward the sins of its past, which finally crested in a desire to see justice done at almost any cost"-- Provided by publisher.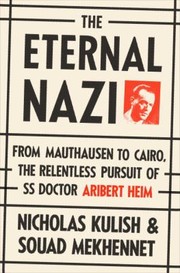 Format

Book

Author/Creator

Kulish, Nicholas.

Published

New York : Doubleday, 2014

Locale

Germany
Egypt

Language

Edition

First Edition
Record last modified: 2021-04-13 13:33:00
This page: https://collections.ushmm.org/search/catalog/bib237468