Canada between Vichy and Free France, 1940-1945 / Olivier Courteaux.
Publication | Library Call Number: F1034 .C67 2013
The relationship between Canada and France has always been complicated by the Canadian federal government's relations with Quebec. In this first study of Franco-Canadian relations during the Second World War, Olivier Courteaux demonstrates how Canada's wartime foreign policy was shaped by the country's internal divides. As Courteaux shows, Quebec's vocal nationalist minority came to openly support France's fascist Vichy regime and resented Canada's involvement in a 'British' war, while English Canada was largely sympathetic to de Gaulle's Free French movement and accepted its duty to aid embattled Mother Britain. Meanwhile, on the world stage, Canada deftly juggled ties with both French factions to appease Great Britain and the United States before eventually giving full support to the Free French movement.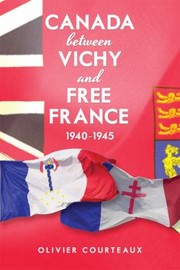 Format

Book

Author/Creator

Courteaux, Olivier, author.

Published

Toronto ; Buffalo ; London : University of Toronto Press, [2013]
©2013

Locale

Canada
France

Language
Record last modified: 2015-07-21 14:57:00
This page: https://collections.ushmm.org/search/catalog/bib238005