Antisemitism and the constitution of sociology / edited and with an introduction by Marcel Stoetzler.
Publication | Library Call Number: DS145 .A639 2014
"Modern antisemitism and the modern discipline of sociology not only emerged in the same period, but--antagonism and hostility between the two discourses notwithstanding--also overlapped and complemented each other. Sociology emerged in a society where modernization was often perceived as destroying unity and "social cohesion." Antisemitism was likewise a response to the modern age, offering in its vilifications of "the Jew" an explanation of society's deficiencies and crises. Antisemitism and the Constitution of Sociology is a collection of twelve essays providing a comparative analysis of modern antisemitism and the rise of sociology. This volume addresses three key areas: the strong influence of writers of Jewish background and the rising tide of antisemitism on the formation of sociology; the role of antisemitism in the historical development of sociology through its treatment by leading figures in the field, such as Emile Durkheim, Talcott Parsons, and Theodor W. Adorno; and the discipline's development in the aftermath of the Nazi Holocaust. Together the essays provide a fresh perspective on the history of sociology and the role that antisemitism, Jews, fascism, and the Holocaust played in shaping modern social theory. "-- Provided by publisher.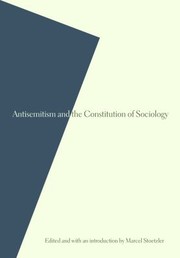 Variant Title

Antisemitism & sociology

Format

Book

Published

Lincoln : University of Nebraska Press, [2014]

Language
Record last modified: 2014-08-19 15:43:00
This page: https://collections.ushmm.org/search/catalog/bib239071