Warburg in Rome / James Carroll.
Publication | Library Call Number: PS3553.A764 W37 2014
"David Warburg, newly minted director of the U.S. War Refugee Board, arrives in Rome at war's end, determined to bring aid to the destitute European Jews streaming into the city. Marguerite d'Erasmo, a French-Italian Red Cross worker with a shadowed past, is initially Warburg's guide to a complicated Rome; while a charismatic young American Catholic priest, Monsignor Kevin Deane, seems equally committed to aiding Italian Jews. But the city is a labyrinth of desperate fugitives, runaway Nazis, Jewish resisters, and criminal Church figures. Marguerite, caught between justice and revenge, is forced to play a double game. At the center of the maze, Warburg discovers one of history's great scandals--the Vatican ratline, a clandestine escape route maintained by Church officials and providing scores of Nazi war criminals with secret passage to Argentina. Warburg's disillusionment is complete when, turning to American intelligence officials, he learns that the dark secret is not so secret, and that even those he trusts may betray him. James Carroll delivers an authoritative, stirring novel that reckons powerfully with the postwar complexities of good and evil in the Eternal City"-- Provided by publisher.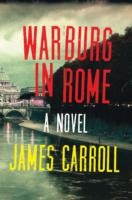 Format

Book

Author/Creator

Carroll, James, 1943- author.

Published

Boston : Houghton Mifflin Harcourt, 2014

Locale

Europe
Rome

Language
Record last modified: 2015-07-23 12:43:00
This page: https://collections.ushmm.org/search/catalog/bib242433