Buncombe Bob : the life and times of Robert Rice Reynolds / Julian M. Pleasants.
Publication | Library Call Number: E748.R37 P58 2000
"This political biography rescues Reynolds from his cartoon-character reputation by explaining his political appeal and highlighting his contributions without overlooking his flaws." "Julian Pleasants argues that Reynolds must be understood in the context of Depression-era North Carolina. An ardent New Dealer, Reynolds favored federal intervention to regulate banks, extend cheap credit, and provide housing and jobs for those unable to find work. He capitalized on the discontent of the poverty-stricken lower class, campaigning as a poor man against his wealthy opponent, incumbent senator Cam Morrison." "Fleshing out a man typically dismissed as a stereotypical southern demagogue, Pleasants reveals Reynolds to be a showman of the first order, a skilled practitioner of class politics, and a unique southern politician - the only one who favored the New Deal while advocating isolationist views."--Jacket.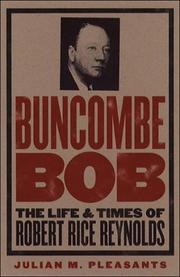 Series

The James Sprunt studies in history and political science ; v. 63
James Sprunt studies in history and political science ; v. 63.

Format

Book

Author/Creator

Pleasants, Julian M.

Published

Chapel Hill : University of North Carolina Press, ©2000

Locale

United States
North Carolina

Language

External Link
Record last modified: 2018-05-09 16:25:00
This page: https://collections.ushmm.org/search/catalog/bib244425