A right to childhood : the U.S. Children's Bureau and child welfare, 1912-46 / Kriste Lindenmeyer.
Publication | Library Call Number: HV741 .L525 1997
This is the first work to trace the development of U.S. child welfare policy during the first half of the twentieth century. In it, Kriste Lindenmeyer unflinchingly examines the bureau's successes and failures. She analyzes infant and maternal mortality, the promotion of child health care, child labor reform, and the protection of children with "special needs," all from the bureau's inception during the Progressive Era through World War II.

During its heyday, the Children's Bureau contributed significantly to the growing recognition of childhood as a special time with specific needs. The agency was the source of many of today's most controversial federal programs: maternal and child health funding, juvenile delinquency policy, Aid to Families with Dependent Children (AFDC), and child labor restrictions. The meaningful accomplishments and the demise of the Children's Bureau have much to tell parents, politicians, and policy makers everywhere.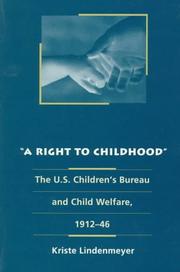 Format

Book

Author/Creator

Lindenmeyer, Kriste, 1955-

Published

Urbana : University of Illinois Press, ©1997

Locale

United States

Language

External Link
Record last modified: 2018-05-10 16:44:00
This page: https://collections.ushmm.org/search/catalog/bib244477