Humanity's soldier : France and international security, 1919-2001 / David Chuter.
Publication | Library Call Number: DC367 .C53 1996
French security policy has posed a puzzle to many people outside France, including politicians and even defence specialists such as the author, who took time off from his administrative position in Whitehall in order to study French thinking about security in detail. As with many other studies, he takes as his point of departure the traumatic defeat of 1940 but argues that the origins of current French policy are grounded in events and ideas that go back hundreds of years. They are ideas that are scarcely known or misinterpreted in the Anglo-Saxon world. Even de Gaulle was not an aberration from these old traditions and aspirations but rather a particularly effective exponent of them.

Only an awareness of these historical roots of current concepts and assumptions will enable the foreign observer to understand what motivates French diplomats, civil servants, military officers, academics and even journalists and businessmen who all shape public, and hence also official, opinion in the area of defence and security.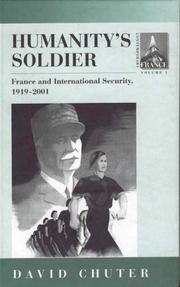 Series

Contemporary France ; v. 1
Contemporary France (Providence, R.I.) ; v. 1.

Format

Book

Author/Creator

Chuter, David.

Published

Providence, R.I. : Berghahn Books, 1996

Locale

France
Europe

Language
Record last modified: 2015-07-22 16:36:00
This page: https://collections.ushmm.org/search/catalog/bib245022